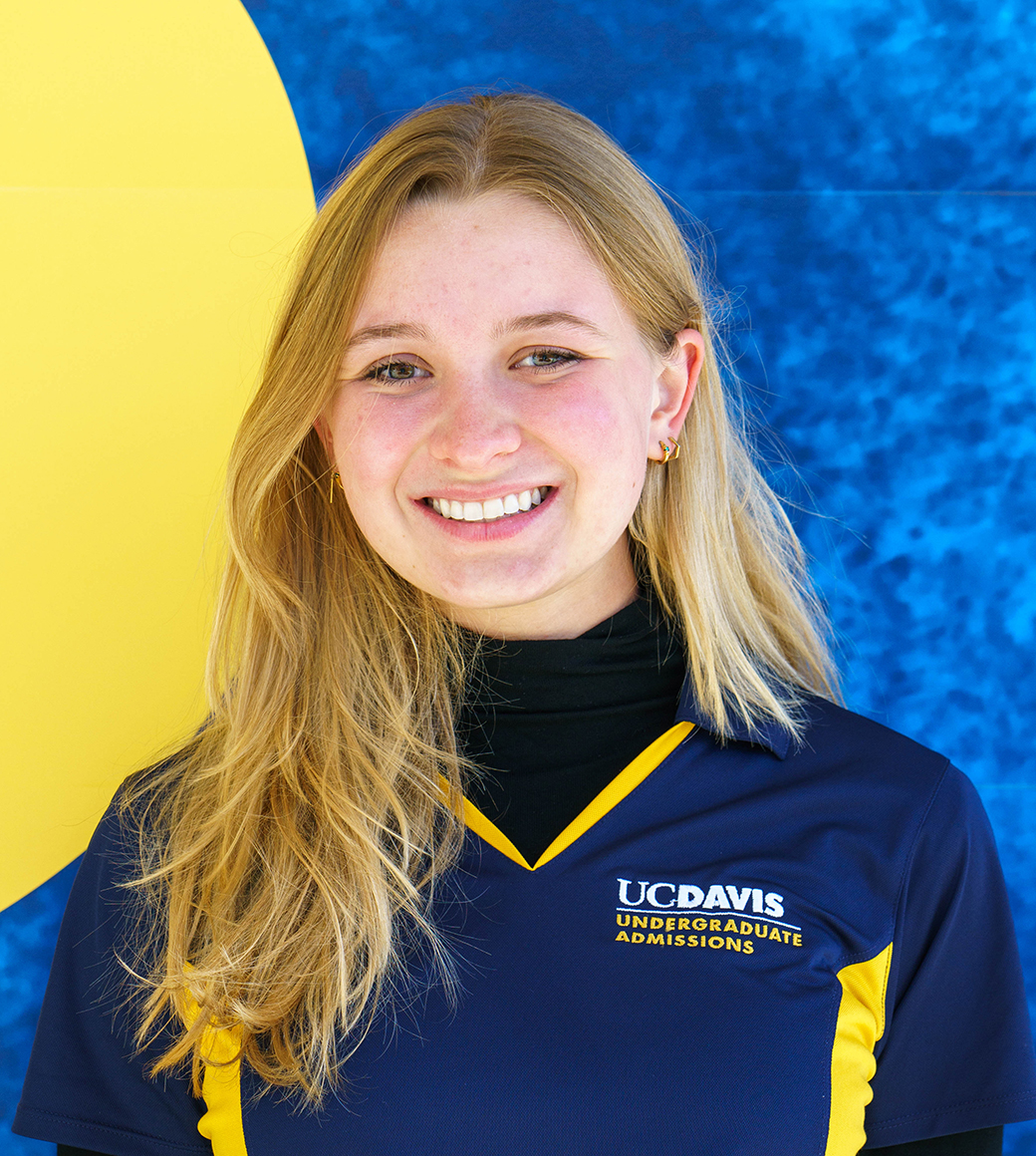 Tell us a little about you.
I love reading, playing video games and meeting new people.
In the context of your background and your time at UC Davis, what makes you unique?
I would say that every student has a unique story at UC Davis, simply because there is so much to get involved with. At UC Davis, I have gotten to know some incredible people and make memories that I will take with me forever. The different on-campus jobs I've had have given me a unique understanding of the behind-the-scenes of what goes on in the school, and I highly encourage people to get involved in that way. I also think that my roommates have made a huge impact on my college experience — we are all studying drastically different things (managerial economics, global disease biology, computer science, animal science) but we have become such a strong group of friends, and I have learned so much from each of them. 
Why did you choose UC Davis?
I chose UC Davis because it felt like a perfect college town. Even though the school's population is big (38,000 students) I never felt isolated or left behind. The campus is beautiful, and I knew that this college would be a great place for me to stay focused on school while still cultivating my independence and growth. I also knew I wanted to stay in California, so UC Davis ended up being the best choice — and a choice I have never regretted. 
What do you enjoy doing for fun here?
My friends and I love to hammock around Davis! There is so much nature in the town to explore, and especially during our online year, my roommates and I would watch lectures in our hammocks outside. Otherwise, I personally love to get coffee and go to the farmers market with my friends, which is a Davis staple.
What activities have you been involved in here?
I have worked with a few different departments on campus. I have worked for the UC Davis Arboretum and Public Garden and the UC Davis Strategic Communications department. I have also served as a senator for ASUCD and worked in every part of the Tour Guide Program. I have done research in the Communication department under Dr. Michael Carter, and I have helped the Global Learning Hub work on web design for the study abroad program. I also worked as an intern for the on-campus thrift store, the Aggie Reuse Store.
In terms of clubs, I have been to a few swing dancing meetings, ballroom dancing meetings, and I joined the sailing club for a bit! My friends and I also had an intramural soccer team last year (our team name was BOLT), and I played inner-tube waterpolo! This past summer, I was a part of the UCDC program, and I got to intern at the Smithsonian in Washington D.C.! While these are the activities I have been involved in, there are still so many different things that my friends and classmates are a part of. There is so much to do at UC Davis.
What do you like about academics and student life here?
I like that you are able to truly curate your academic experience at UC Davis. Even within your major, you are able to take classes that spark specific interests for you, whether you are studying political science or animal science. Personally in my Communication major, I have taken a lot of classes on media communication — but, I have peers who have taken classes in political communication, health and communication, and social media. Regarding student life, there is always something going on on-campus, which I love! Your experience at UC Davis will ultimately be up to you, but it is so important to have great, reliable friends who you can spend your days with. I feel like Davis has given me that a million times over.
Where have you found community and support on campus?
In the classroom, I have found a lot of support academically. Especially in my Japanese classes, it has been important to form study groups where I feel comfortable practicing with my peers to help one another out. This is something I highly recommend and is a great way to make friends!
How has UC Davis helped you grow?
UC Davis has given me the space to become a better version of myself compared to when I began college as a freshman. I feel like I have deepened professional interests of mine as well as grown to be comfortable with who I am. A new experience I did not anticipate for myself was minoring in Japanese! It has been such a rewarding journey to study the language and explore the culture through my classes.
How do you feel UC Davis is preparing you for success?
I feel as if UC Davis has provided me with the backbone of who I am and has helped cultivate my strengths. UC Davis and the network of people it has provided me with will continue to be something I can fall back on for support when I need it.
What do you hope/plan to do after you graduate?
My goal is to explore different jobs in the realm of communications and see where my strengths and knowledge base take me. I am ultimately interested in working in entertainment, and I hope to use my minor to help me work in Japanese/American localization when it comes to video games or television shows.
What has surprised you about UC Davis?
How much I actually came to love the cows! I know it is an overused stereotype of the school that we live in "cow town," but I actually feel so much comfort when I see them now — they really remind me of home.
What would you tell prospective students about UC Davis?
You are going to have so much fun! Obviously, college is going to be what you make of it no matter where you go. UC Davis has been everything I wanted out of college and more, and coming to a school like this is a huge privilege and an amazing experience. My main advice is to just try everything — you may find a hidden interest or learn something unexpected about yourself. Good luck, and make the most of it!
Social media