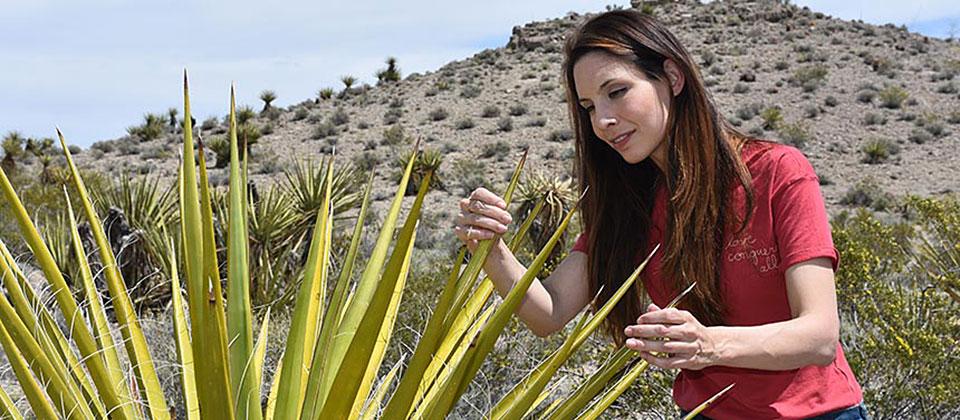 Rebecca R. Hernandez
Assistant Professor, Earth System Science
UC Davis Department of Land, Air & Water Resources
CAMPOS Faculty Scholar
Rebecca Hernandez grew up in the foothills of the Santa Ana Mountains among ample coastal sage scrub. She didn't know at the time that it is one of the country's most endangered plant communities, threatened by urban development and exotic species invasion.
Hernandez spent her childhood hiking and biking through the fragrant, shrubby foothills, home to a diverse mix of soils and plants, animals and invertebrates, including cottontails, monkey flowers and purple sage. "It was always a place where I could find peace and meaning, and it made a lasting impression on me," she says. "It's always been in my DNA to be a conservationist at heart because I care about organisms that don't have a voice."
Using science to reach environmental goals
Hernandez, who started teaching at UC Davis in January 2016, focuses her research on human-created problems, aiming to help us reach sustainability and environmental goals. She spends most of her time studying how energy systems such as solar, coal or natural gas impact the biosphere.
To further her work in energy ecology, Hernandez founded and co-directs the Wild Energy Initiative. The program brings together on-campus energy ecologists and interdisciplinary energy scientists to showcase their work on how energy systems interact with the earth's systems and species, and how to solve sustainability challenges.
Hernandez also directs Aridlab, which studies human-created and natural changes to aridlands worldwide. Aridlands are water-limited habitats that comprise 40 percent of the earth's surface and are home to one-third of humans and one-third of all farming. We need to understand them so that humans will continue to thrive there, she says.
Though Hernandez says she would love to spend all her time studying the design of aridland species and nature apart from human impacts, she notes, "The problem is you can't live in a bubble. You can no longer ignore these huge environmental catastrophes that are occurring. But there are enormous strides we can make as individuals and communities, especially when it comes to energy decisions that are compatible with the environment. I'm motivated by solutions more than ever in my research."
A challenging point of view
Hernandez's areas of inquiry overlap. A lot of her energy research takes place in aridlands around California, where solar energy development is proliferating. She studies the trade-offs in construction and installation of large-scale solar panels and their impact on soil, vegetation, animals and water. Solar energy development in deserts is contributing to the loss of natural resources with great historical and cultural value, she says, including 1,000-year-old creosote bushes and view sheds that are valuable to Native Americans.
Holding a point of view that's critical of large-scale, ground-mounted solar panel installations on undeveloped land is challenging. Many people think of deserts as wastelands, she says, including developers and policymakers. They also often think that any type of renewable energy is intrinsically sustainable. However, the best places to install solar panels, Hernandez's research has found, are in developed areas: residential and commercial rooftops, parking lots, reservoirs and contaminated lands like superfund sites.
To help form her research questions, Hernandez works with nonprofits, nongovernmental organizations and other grassroots groups to ensure that her work addresses gaps in knowledge that will lead to policy. She emphasizes that she's a scientist, not an advocate. "I'm extremely committed to doing work that is aboveboard and not influenced by anyone that funds the research that my lab conducts."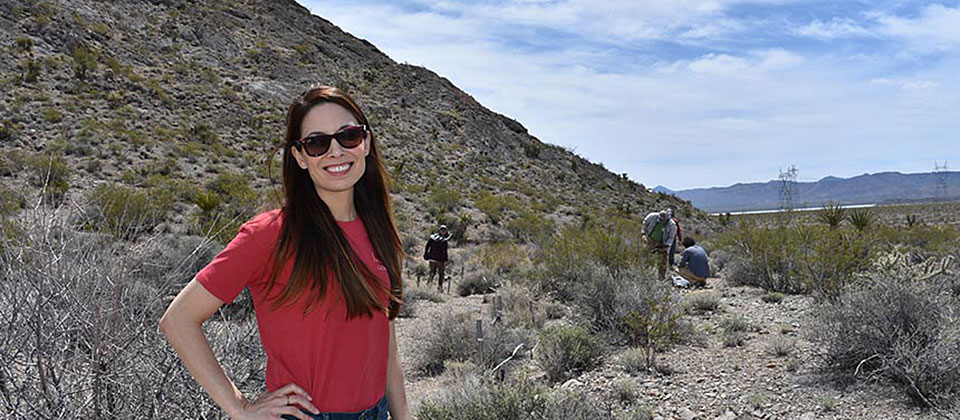 Meaningful recognition
In January, Hernandez received the E.O. Wilson Award for Outstanding Science in Biodiversity Conservation from the Center for Biological Diversity, a nonprofit conservation organization. The recognition meant even more, Hernandez says, because she is a first-generation Mexican-American, the first in her family to graduate from college and underrepresented in her field.
She adds that she is grateful for her mentors and for being a faculty scholar at the Center for the Advancement of Multicultural Perspectives on Science (CAMPOS). The program offers mentoring and career help to women in science, especially Latina women in STEM fields. Being a CAMPOS scholar has provided Hernandez with a network of people with similar experiences who offer mentorship and emotional support. During the recruitment process, she was "considerably struck" by how committed UC Davis is to increase its numbers of women in STEM and Latinas. 
We all need wild things
As she's learned about the natural world, Hernandez has adopted a take on a quotation from early 20th-century conservationist Aldo Leopold: "There are some who can live without wild things, and some who cannot."
Leopold's statement, she says, is one of the few times he got the science wrong. She says she wishes more people would realize that the environment provides resources upon which humans are entirely dependent. "The natural world is what cleans our air, the pollinators are what ensure our food security and food supply," she says. "The soils are what prevent erosion, sequester carbon and filter our water.
There are none who can live without wild things."
Learn more about Rebecca Hernandez and her research.